Don't know why, but in DynamicalModelEditor.HandleColliders there are duplicated DynamicalModels being showed for setting the collisions.
EDIT: Not only not working in DynamicalModelEditor, the line that gives us the duplicated objects is the next one, that generates the same "duplicated objects" error in all the scripts that use it.
_allDeformables = (Resources.FindObjectsOfTypeAll(typeof(DynamicalModel)) as DynamicalModel[]).ToList<DynamicalModel>();
My temporal fix is just adding each DynamicalModel to a "usedDynamicalModels" list, and comparing them at the begining of each loop iteration.
if (!_allUsedDeformables.Contains(item.gameObject.name))
      _allUsedDeformables.Add(item.gameObject.name);
else
      continue;  //to go to the next iteration and ignore the 
                 //lines below for this iteration

The bug: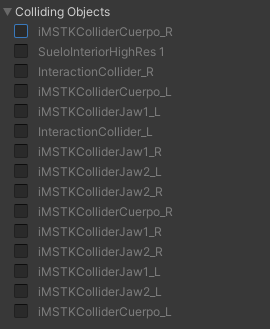 What happens when trying to use a duplicated DynamicalModel: