Hi all (esp. @Bob_Obara) ,
There's a lot left to do (see below), but here's some progress on getting ParaView widgets adapted to SMTK's qtItem class so 3-d widgets can edit attribute item values.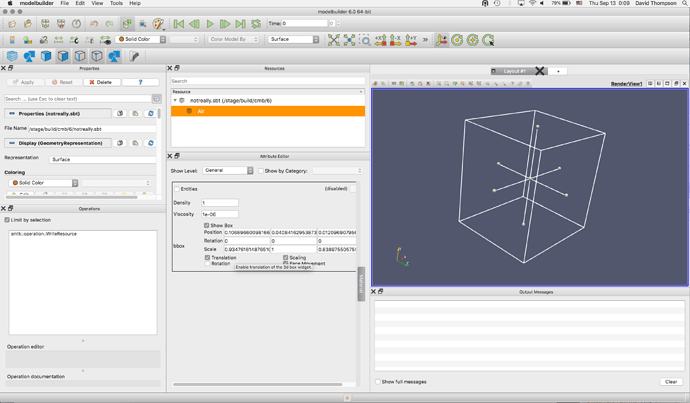 What's Left
Need to generalize to widgets other than the box widget.
Need to connect signals and slots so widget and attribute-item are connected.

Also, initialization should be supported so that default values in the attribute (which may not make sense for the modeling workflow) are not always preferred over sizing related to the scene bounds in ParaView. (see post below for some ideas)

Determine how much control applications/workflows should be given over the Qt widget appearance. For example, should the Rotation checkbox in the screenshot be permanently disabled in some workflows? How can this be done in the ParaView widget?
The widget representation is tied to the active view (the one active at the time the qtUIManager is created by the attribute panel)… we should probably add signals so that when the active view changes the widget moves to that view (assuming it is capable of showing the widget) or disable (if it cannot show the widget, e.g., the spreadsheet view). (SMTK MR 1421)
Verify that load/save state do not attempt to serialize/deserialize the widget (or fix it so they don't) as the widget will be recreated by the attribute panel upon demand.
Figure out better, more usable interaction for enabling/disabling the widget (other than the "Show Box" checkbox in the attribute panel).